My Quikrete One Bag Challenge
What's the best part about the Quikrete One Bag Challenge? My project submission solves a few problems for me! I'm using Quikrete Fast Setting Concrete Mix to make a portable garden tool caddy. This caddy will securely hold garden tools, take up less space in my garage, roll around any hard surface, AND hold my water bottle while gardening around my home. I'm using one bag of concrete as ballast. I can store large garden tools such as a leaf rake, pitch fork, hoe, shovel and straight rake upright because the weight of the concrete counterbalances the weight and height of the garden tools.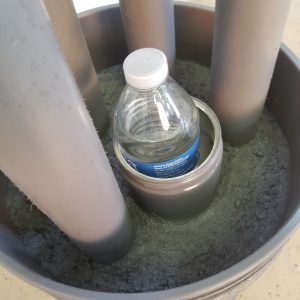 Just one bag?
Yes! It's amazing how creative one can get when they're forced to keep things simple. Sometimes, it brings out the best the very best design. I believe that is going on  here; making an uncomplicated, easy to follow project that almost anyone can do. The Quikcrete Fast Setting Concrete Mix scoops out of the bag a little at a time to make it easy to handle for anyone. Don't overlook concrete as material for small DIY projects. It's so simple to mix and match to paint colors, it will blend seamlessly with whatever project you're working on.
Take the Quikrete One Bag Challenge too!
This garden tool caddy is also attractive and simple to build. One looks great on its own but two or more (side-by-side) are equally attractive for multiple tool storage. This design is modern, sleek and clean. It is built with simple tools and a few supplies – most of which homeowners already have. It is made and ready to use in about an hour. I now have an easy and convenient way to store and transport large garden tools around my property – all thanks to one bag of concrete!