Carnival Mask Making
Here is my Carnival mask making video. This video is a sixty second glimpse about how to make DIY Carnival Masks for a Venetian Carnevale or a New Orleans Mardi Gras parade. This is a step-by-step process that uses very simple techniques and products. I will include many links to products so that you can successfully make your own masquerade mask. You probably have most of what you need in your home already to produce amazing DIY carnival masks. Let's get started.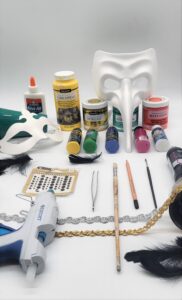 DIY: Masquerade Mask (from scratch)?
The basic component of a Mardi Gras mask or Venetian mask is the mask itself. Today, I use a women's paper version that I have available from Amazon. You can purchase it through this link here. This is very comfortable to wear for many hours  because it's shaped ergonomically to your facial features and is extremely lightweight. This DIY carnival mask is so easy to decorate because it's easy to handle and see all its angles to make sure you cover all the nooks and crannies around the eye openings. This makes easy carnival mask making so there's no mixing papier-mâché  or plaster of Paris for this craft project. How to make cardboard masquerade mask products isn't necessary either.
If we take a glimpse at the history of venetian masks, we see how much skill goes into making these. The skill and time requirement for an Italian Mask festival is undeniable until now. My carnival mask tutorial takes easily available craft supplies and puts them together in an easy to follow fashion so that there's no need to be a skilled artist. This carnival mask craft will be welcome at the current carnival in Venice, Italy. It looks so authentic that everyone believes it's locally made by artisans!
Mardi Gras Mask DIY making
How do we start Carnival Mask Making? Start out with masquerade mask DIY ideas. Italian masks have many different styles and themes. Pick one that's right for your costume or outfit. There are many online resources for designs. The Venice carnival of 2023 has styles that date back to past carnival of Venice parades. Mardi Gras New Orleans also provides alternate styles to traditional Venetian styles. Masquerade mask design ideas are best when compiling them together to create an entirely new design. That's what I do in this video #short. Other resources are DIY Venetian Mardi Gras Mask by A Noble Touch or Mardi Gras Masks with Mackenzie Childs.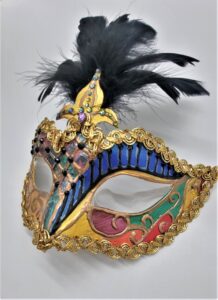 This Carnival mask DIY tutorial video starts with carnival mask drawing. You need  a sharp pencil and some imagination. My masquerade mask DIY video also uses DecoArt craft paints and finishes. The paints have excellent flow and coverage, to make the process very fast. I am able to achieve a stain glass look with the combination of paints and Elmer's glue (that I thicken up with cornstarch). Cornstarch thickens the glue so that I can get a crackle paint effect on each one of the colorful squares on the mask. Even a Venetian making masks didn't think of that!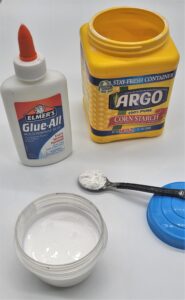 I also incorporate rhinestones, beads, trim and feathers for a beautiful finish. I use a combination of Jewel-it glue and hot glue to attach the embellishments and create reliefs for applying liquid gold leaf paint. Please be careful with the heat of an electric glue gun, as it can easily burn your fingers. You may want a low-temp version for gluing on the trim. Please click the links here or on my website www.reneeromeo.com for your own assortment.
Get ready to show off!
DIY Mardi Gras Masks are so easy to decorate, there's no excuse for you missing out on your local Mardi Gras parade.