My Basement Bar Ideas: Liquor Bottle Storage
Do you need basement bar ideas: liquor bottle storage, in particular? I'm remodeling my basement bar and taking you through my basement to show you my issues and concerns regarding the current space. I need to address several items – the lack of light being the most obvious and storage being the second. My basement is a walkout and although there are plenty of windows, the light just doesn't reach the opposite side of the space – which is where I'm working today. There's plenty of space for storage of liquor bottles and bar supplies, I just need to build out the space to utilize it's full potential.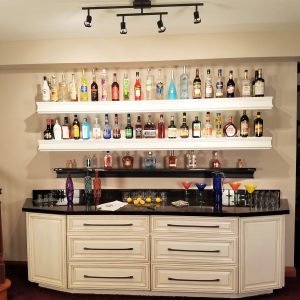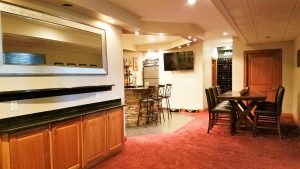 AFTER>
As a bonus, I'm also partnering with two great companies; Lamps Plus for dramatic lighting and Crown Granite for Ready-to-Assemble (or RTA) cabinets. Lamps Plus is the number one lighting retailer in the country and I've purchased from them online for years. I trust them to deliver quality, value and style at a price that I'm willing to pay. Crown Granite is the best RTA cabinet store in Metro Detroit. They're located in Farmington Hills, MI. Crown Granite is easy to work with and carries solid wood cabinets that are in stock and ready to go. Both amazing companies make this basement bar build easier for me because I'm working with quality materials that are easy to install and assemble.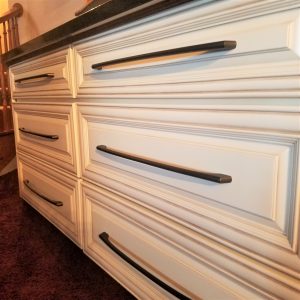 <BEFORE
Basement Bar Designs
I'm putting on my Jill-of-all-trades hat for this amazing 3-part design series. First up is liquor storage. Stylish bar storage is more than looking up "8 top trends in basement wet bar design for 2019″… You need to choose ideas that stand the test of time. You can certainly find out how to set out a funky home bar but if you don't have great home organization tips, the effect may fall flat. Alcohol and glassware storage ideas for your basement bar are a must! I'm taking care of all my clutter with simple-to-build basement bar cabinets and liquor bottle shelves. Best yet? I'm relying on stylish liquor bottle lights to add to the ambiance. My parties will be well lit with the new Warm White LED Tape Light Kit!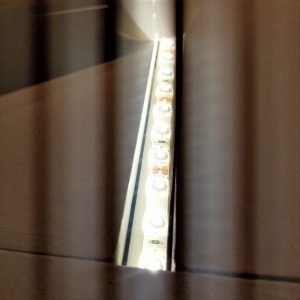 Speaking of lighting fixtures and keeping things current, I'm replacing all my old fixtures with energy efficient bulbs and fixtures that help keep the party going longer. It won't cost much to run electricity so the party can go on longer. LED and halogen bulbs can also mimic the sun to deliver incredible looking natural light. These are perfect choices for dark spaces and basements where it's tough to pull in sunlight. You can also shop the gorgeous track light that I'm using as a ceiling fixture here. It's appropriate for most any space because it blends in with most types of decor. It's stylish, adjustable and low-profile so it can be used to highlight many beautiful things in your home. Just look at what I did here: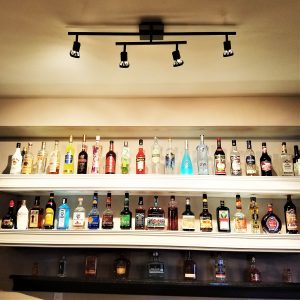 Pro Track® 36″ Wide Bronze 4-Light Compete Track Kit
Liquor Bottle Storage Ideas
I'm showing you exactly how easy it is to assemble RTA cabinets so that you don't have to rely upon a liquor bottle storage box. An enclosed cabinet works so much better and it's probably less work to build it yourself! You may be thinking that a liquor bottle storage rack will do the trick too but many of the bottle labels will remain hidden from view. A liquor bottle stand or liquor bottle storage rack won't be as sturdy as my basement bar ideas and designs are. Just wait until you see how sturdy my liquor bottle shelf is – I'm demonstrating pull-ups on it! Seriously, each of the floating shelves that I'm building hold over 200 pounds of liquid and glass.
Basement Bar Ideas on a Budget
This is where some ingenuity comes into play. Because I'm DIY-ing the whole basement project from floor to ceiling, I automatically save money. I'm also using common materials that are easy to find and combining them in ways that create beautiful design. I'm streamlining the space to make it multi-purpose and that saves money too! If you're willing to follow along with me and learn some basic construction skills, you can have a beautifully designed basement too. My basement bar plans are step-by-step and easy to follow. You'll need some basic tools to get the job done – most of which you probably already have.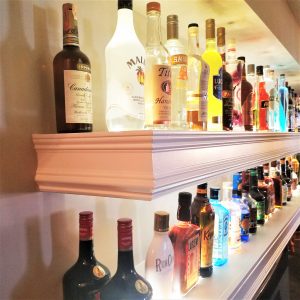 My liquor bottle storage ideas save you money because they're practical. You can construct a feature wall like mine in most any area of your home where you entertain. Its attractive and simple design appeals to any design aesthetic just by swapping out door styles and trim molding. From traditional, to Farmhouse to Mid-Century Modern, (Crown Cabinets has those) you can put your own twist on this project and call it your own. You can spend as much or as little on materials too. Just think of all the different materials you can use to make shelving. Try up-cycling for an eclectic look too!
Be a Jill-of-all-trades too…
I dedicate my entire website to DIY projects and helping you achieve projects like a pro. If there's anything that you need more information on, please visit www.reneeromeo.com. I guide you through the most intimidating of projects – including in-depth processes of certain aspects of this project. Feel free to peruse my website for many more helpful projects to give your basement bar a gorgeous new makeover. Also, please visit Lamps Plus online to view the incredible selection of lighting anywhere on the web. I have the entire collection of lighting that I'm using for this project listed on my SHOP page as well. You can purchase the same items that I use so I'll save you the guess work on that aspect of your basement bar build.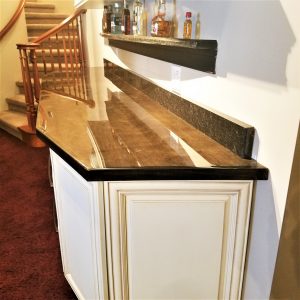 Lastly, if you're ever near Metro Detroit, please take the ride and the time to visit the Crown Granite Showroom. It's worth the ride to see the quality ready-to-assemble cabinets in person. They're located at 24400 Sinacola Ct. Farmington Hills, MI 48335. Their phone number is: 248.888.2200. I promise the trip will be worth your time!
And… please join me for parts 2 & 3
25 Ideas to remodel your basement and make it great!