Like to know how to paint furniture in 6 steps?
Today, I'm showing you how to paint furniture in 6 steps. I know it's hard to believe that it's even possible to paint furniture in just six steps! Most of us believe that the whole procedure takes days to accomplish and requires special skill. Well, I'm here to tell you this quick video will have you painting furniture like a pro and get it done in no time. With this video, you learn how to master prep and painting without any extra steps. You achieve a durable, flawless finish on any piece of furniture that you're trying to revive.
Here's a beginner's guide…
What type of paint am I using? I'm teaching you how to paint furniture with spray paint.

Yes, spray paint! Don't be afraid, you'll soon be applying a professional finish – with spray paint – to all your tired furnishings. The reason why I love using spray paint is because it allows for a super fine finish. That means it leaves the grain on surfaces in tact. For example, I have an old oak desk that I'm painting and I want to preserve the texture of the grain. If I use latex paint – that tends to flatten out as it dries – I will have a large, uninteresting, smooth surface to look at when it's done. By using the super fine mist of an aerosol propellant, I can maintain a finish that's interesting to look at by preserving the grain.
Once you target the perfect piece of furniture to paint, it's time to choose the correct primer.

It's the key to the success of your project. Even though paint companies claim that their spray paint includes primer in its paint, don't be fooled! Primer of this type is useful in hiding some stains but has nothing to do with how well the paint adheres to your project. I share my fool-proof method to get spray paint to adhere to almost ANY surface with the correct primer. You can even use my recommendation if you want to know how to paint furniture without sanding. Or, can even use this primer if you want to use chalk paint on your furnishings.
Everything you need to know…
Whether you want to know how to paint wood furniture, plastic furniture or glass, I share my tips and tricks to get a gorgeous finish. I let you know the biggest painting mistakes to avoid with using spray paint. I show you all the tools you need to get the job done properly. I also have a materials list for you to print out: How to Paint Furniture in 6 Steps: Materials List
You will walk away knowing exactly how to get an even finish on any piece of furniture around your home. So, today we forget shabby chic finishes and learn how to get a flawless finish – with spray paint – on any surface NOW.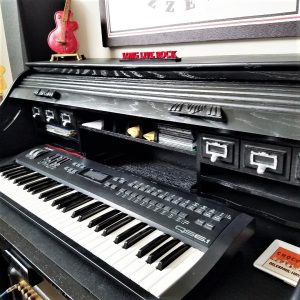 Seriously, fast and easy.
I have six fast and easy steps. Since they aren't very involved, you accomplish each step in a timely manner. There is little need to wait between steps. I make it easy for you to get on with the rest of the projects in your day. I don't complicate any of the steps and almost anyone can do this. There are many inexpensive items that will help you get the job done right. For example, a furniture dolly is the perfect item to use for moving heavy furniture around as you paint. It makes the entire process mobile and moving right along. Paint a drawer, roll it out of the way and then paint another. A furniture dolly allows for an assembly line-like process and keeps the paint process running along smoothly.
Do I have a color preference?
Choosing a paint color is easy but painting furniture black is what I show you how to do in this video. Honestly, this method works with any color and any finish. Are there benefits to choosing a darker color versus a lighter color? Of course. When old furniture has dings, blemishes or scratches, you will be doing extra prep work. So, the lighter the final color choice, the more surface prep the piece needs. Light paint colors tend to show scratches more easily so I show you how to get rid of them with simple tools. If you choose a dark color, surface blemishes are easier to hide because light doesn't reflect as easily on dark surfaces. Best yet, you can touch up scratches and dings with a sharpie marker (once it's finished) if you choose the black paint that I'm using. Really!
How to paint furniture in 6 steps, BENEFITS?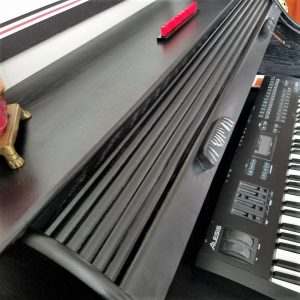 You refurbish a piece of furniture and save it from the scrap heap. You have to watch until the end of this video to see the "after" shot of mine. My roll-top desk is now a modern looking piece of furniture, capable of spending the rest of its life being useful again. There are many memories that we attach to furnishings and this desk is no exception. It goes from library to music room effortlessly and now blends seamlessly into its new home. You can do the same thing with special furniture that you attach yourself to – emotionally. It's surprising how we can all change the look of our homes with a single piece of furniture. It can ruin or elevate a space. Don't let your old table, chair, or desk destroy your good looking interior!
Let me help you make the most of your old memories. I walk you through the whole process of transforming your furnishings into something that people marvel over. You will impress yourself with the professional results that this video gives you. All you have to do is purchase the correct supplies and follow along. It doesn't get any easier than that. Give me twenty four hours of your time and I'll give you some of the best looking furniture in your home. Best yet? You learn how to paint furniture in 6 steps without breaking the bank!