My Best Chocolate Chip Cookie Recipe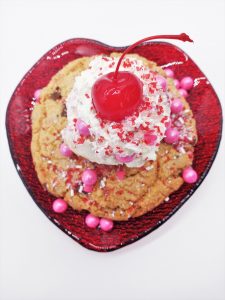 This is the best chocolate chip cookie recipe ( Print Pdf here ) you'll ever bake. I can say this because people from all over the United States can't be wrong! My family's Tennessee restaurant made these famous by serving them at our grab-and-go-take-out window. Just imagine purchasing warm homemade chocolate chip cookies on a cold, crisp day. It's enough to make your hands warm and your mouth water. I'm taking you through the entire process so that you can make our best chocolate chip cookies right in your own home – just in time for Valentine's Day.
This cookie recipe is so much better than Toll House chocolate chip cookies because it makes HUGE, thick cookies that are crisp, moist AND crunchy. This cookie recipe has the perfect combination of textures that makes it the BEST chocolate chip cookies you'll ever taste. Best yet – you'll make a cookie that's large, easy to transport and ship.  So, an entire box will arrive all in one piece. You could never accomplish that by baking it the old fashioned way. This is one of the best cookie recipes – ever!
Let's add an m&m!
… or SEVERAL to this incredible and easy chocolate chip cookie recipe. m&ms are the perfect addition to the mix. With the addition of different m&m colors, you'll create a one-of-a-kind homemade cookie that fits right in with a theme party. The theme today is Valentine's day so the m&m's Cupid's Mix is the perfect color choice. This m & m candy mix has pink, white and red pieces that will POP against the background color of the cookies. You can visit mms.com for personalized gifts, favors and more to compliment whatever occasion you're celebrating. at the m & m store, you can choose from a rainbow of colors and a variety of personalization options.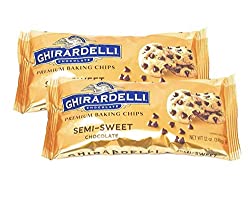 m&m cookies and chocolate chip cookies are blended together in this cookies recipe for the perfect balance of semi-sweet and milk chocolate. When you add different m&m flavors – in the form of different chocolate flavors and fillings – you can even customize the taste. Today, I'm adding some hot pink mini vanilla chips to my recipe or you can use white chocolate chips as well. It's fun to play with subtle flavor differences in this recipe because you can add the flavors that you like. If you're just trying to add different color combinations or dissimilar sized chocolate pieces (to mix it up), try using colored jimmies instead.
Everyone loves to bake chocolate chip cookies
Your entire family can get involved in the baking of  these chocolate chip and m and m cookies. I take you step-by-step in this video tutorial so that you can follow along with me. I don't leave anything out so that you get the same baking results that we did at our restaurant. No matter who bakes these cookies, it's repeatable time after time. That's what makes for the best cookie recipes. You want to hang on to them and keep baking them many times over your lifetime. I promise you that this chocolate chip and m&m cookie recipe is a keeper! But feel free to use just chocolate chips if that's more your fancy…
What do you need?
Surprisingly, my best chocolate chip cookie recipe only requires one specialty item: a large mixing bowl. Due to the size of the finished cookie, you'll need a larger than normal bowl. You can get it here. My mixing bowl is a favorite and you can make many batches of these delicious chocolate chip and m & m cookies throughout the year. In the video, I also use a hand mixer for the wet ingredients but if you don't have one – not to worry – you can mix this portion by hand. The last specialty item(s) you'll need are plastic dry measure cups. I'll explain more about why in the video tutorial.
As you can see in my final presentation photo, this isn't your ordinary chocolate chip! It's colossal so it's perfect for a beautifully plated Valentine's Day dessert. Not only am I adding good quality chocolate chips, m & m candies, and other good quality pantry ingredients (like my favorite brand of vanilla), I have Valentine's Day sprinkles and pink chocolate pearls to decorate the top. Speaking of the top, did you see my homemade strawberry ice cream in the photo? Here's the recipe for that too: (Homemade Strawberry Ice Cream Recipe), in case you have your own ice cream maker! If not, grab a quart of your favorite brand, along with some heavy whipped cream.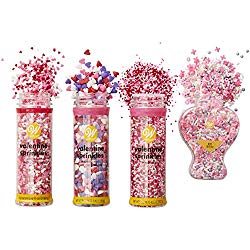 The best chocolate chip and m&m cookies EVER!
With Valentine's Day just around the corner, this is the perfect valentine's Day dessert to serve your sweetheart. I love making something decadent for this holiday – as they say "a sweet for your sweet". I also love that it's quick and easy. It almost makes me giggle that in the final presentation, it looks like it takes all day to make. Best yet – you can make these ahead of time (including the ice cream) and have a fast time with assembly. You are going to get so many raves from your sweetheart, your family and/or friends when you make a batch of these wonderful cookies for them.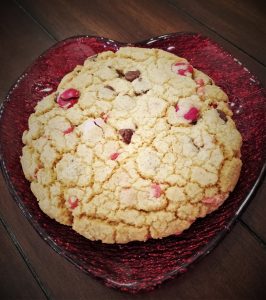 I highly recommend that you use the finest ingredients that you can find. It really does make a difference in the outcome of the cookie. I share all of my recipe secrets with you to give you the best m&m cookies recipe, chocolate chips recipe, Valentine's Day dessert recipe or any other occasion cookie recipe that translates from wedding to baby shower so easily. These are also great for gift giving, as you can place them in cellophane bags and tie them off with a complimentary ribbon – perfect for the occasion. I also encourage you to mix it up and try different chip flavors and other additions that will personalize this basic cookie recipe to your sweetheart's taste buds. The ingredients really DO make the cookie – hahaha! Happy Valentine's Day.