Windshield Chip Repair Near me or DIY this project?
Is windshield chip repair near me or DIY the way to go when I have a chip in my windshield? It's the worst feeling to get a chip in your windshield when you're a careful driver. Nothing prepares you to avoid this situation – especially when you can't see the rock or stone coming at you. We all do our best to avoid following too closely to large trucks but sometimes it's impossible to steer clear of these tiny, menacing obstacles! I have a new chip in my windshield as a result of a large truck travelling ahead of me. It's a terrible sound to experience when you're driving at high speeds!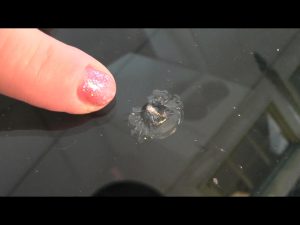 What to do?
The first thing to to vehicle around, the more potential for the chip to "spider-web" and create more damage to the glass. Auto glass is different from glass that is hanging around your home because there are safety features built directly into the auto glass. Typical glass around your home is single pane and is normal glass. Normal glass breaks into large shards after you hear the noise of the impact is to get to your destination as soon as possible. The more you drive your and is very dangerous when hit. So, manufacturers temper (or heat) auto glass and then cool it slowly so that it separates into tiny pieces when it breaks. You can also refer to it as safety glass. Auto glass for the rear and front side windows and the rear window will be tempered glass. Car manufacturers use laminated glass for windshields. That's what I'm working on today.
Laminated glass is a type of safety glass that holds together when hit. In the event of breaking, it is held in place by an inter-layer, typically of polyvinyl butyral (PVB) or ethylene-vinyl acetate (EVA), between its two or more layers of glass. This inter-layer makes it possible to perform the type of repair that I'm attempting today. The application of liquid resin will remain on the surface of the windshield for the duration of the repair. The inter-layer prevents the liquid resin from leaking through to the inside of the vehicle. Without this inter-layer, windshield chip repair near me or DIY can never be an option. Complete windshield replacement is the only choice available in past times.
Cheap too!
Typical windshield repair costs around seventy five dollars per chip. I know this all too well because ALL of my vehicles (in the past few years) suffer from chip damage. It hurts to pay that much for a repair so small! It's a necessary repair because the longer you leave the chip in the glass, the more the crack grows and this leads to a several hundred dollar repair. I'm not having that! The kit I'm using today ONLY costs ten dollars and ninety nine cents! I use this kit in my FIX BROKEN, CRACKED or CURVED GLASS video to repair a piece of curved glass. It works surprisingly well at eliminating light glare from the broken areas so I think it's the perfect candidate for this repair too. I mean, that's what it's for! You can purchase the kit here: DIY Windshield Repair Kit.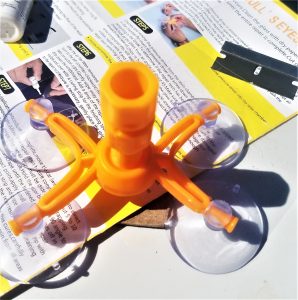 Fast and Easy Process…
You can count on a 20 minute (or so) process – start to finish. Repairing a windshield chip takes seven easy steps. The kit comes with complete instructions, detailing everything you need to know to get the job done. When you follow along with me, you also get the added benefit of watching the process in real time. It eliminates the chance of costly mistakes – both in money and time. You receive proper instruction along with tips and tricks to getting the best looking repair possible. My repair gets done quickly and has me back on the road in no time! I eliminate the fear of future "spider-web" cracking in the matter of minutes. All you have to do is make sure that you wait for a sunny day and you'll be on your way quickly too!
What's in the repair kit?
The repair kit comes with everything you need for a complete repair. I have additional products – such as isopropyl (rubbing) alcohol and paper towels make the the repair net and clean. Other than that, you need to rely on the sun's UV rays to take care of the rest. All you need to do is start out in a shady location – such as in a garage or under a tree. The windshield needs to be cool during the application process so that the resin filler doesn't set up before you're ready. The resin filler will only harden when exposed to to sunlight or a UV light. Once you're set up in that location, you can take your time until you're satisfied with the look of the repair before you cure it. My vehicle is facing forward in my garage and then I can easily back my truck out into the sun when I'm ready.
So, windshield chip repair near me or DIY?
DIY of course! It's cheap, easy and quick. I don't need to involve any one else in this repair process – that means everyone from my husband to an auto dealership (yay!). I can accomplish this job in a matter of minutes. It's done when I want and where I want. There is no better feeling for me than DIY-ing my way through a repair that seems like it's deemed "professionals only". This windshield chip repair is preventing future problems and allowing me to get back to my daily activities without worry of the problem spreading. You can get the same professional results as I do here, simply by following along. I give you all the answers! Best yet, I give you the link to this great product that gives you several repairs worth of chipped windshields. You just never know when you may need to reach for your own DIY Windshield Repair Kit .