How to Make Your Bed to Impress
Do you want to learn how to make your bed like a luxury hotel? I'm sharing my ideas for all the bedding essentials necessary to transform any bedroom into a luxury retreat. It doesn't matter what design style you choose, the basics are all the same. My ideas enhance any bedroom in your home – master, kids or guest's rooms. And doesn't everyone deserve better sleep? Get ready for the most informative 10 minutes of your life because I'm certain you can learn something new in this video tutorial. Learn how to make a bed so it looks beautiful and feels oh-so-comfortable.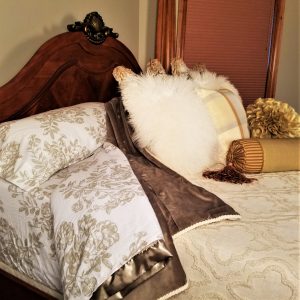 What's the best way to make your bed?
A good foundation and mattress is necessary to begin the best sleep of you life. Without getting into favorites (because that's another video), you can start out with what you currently have. If you're shopping for new mattresses, you don't have to spend a lot to get a good night's sleep because I have a solution for that. I approach bedding in layers. Each layer provides you with an extra surface to envelop you in and gives you additional material to snuggle up with. So, whether you're looking for softness, firmness, coziness or just plain warmth, I have the right blend of mattress and materials that gets the job done!
My video not only teaches you how to make a bed, the links to products that I use are also available throughout the text below. For instance, a foam topper is a must. There are several great reasons to add a layer of foam to your sleeping surface. First, it evens out divots in older mattresses and can extend the life of that mattress by years! It doesn't matter of you prefer a firm foam topper or a soft foam topper, either one does the trick. It also evens out temperature differences throughout the sleeping surface so that you and your partner can sleep comfortably all night long. You need to tune in to hear the third benefit because I don't want to give all my secrets away just yet…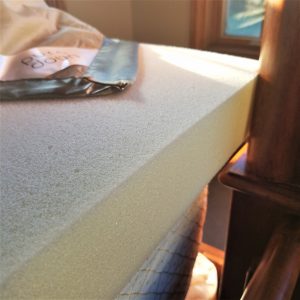 This is how to make a bed the right way..
It's not just the right amount of layers, it's choosing the right materials to surround yourself with in bed. You can use polyester fabric only in a mattress pad but NEVER place polyester next to your skin while you sleep! Micro fabrics don't breathe so don't use them. You won't give yourself a restful night's sleep. A super comfy bed is made up with 100% cotton fabrics and down. So, I'm using heavyweight flannel sheets on my bed today. I even use them during the summer months because of their ability to feel incredibly soft and breathable. The great thing about the link I share is that you can choose whatever color or pattern you like for your bed. There's a style for every room.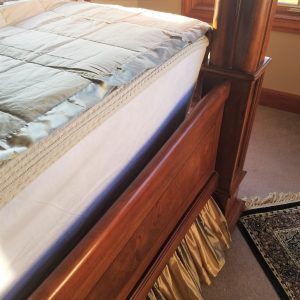 If you love to cozy up with a blanket or pull it over your head, I have the perfect choices for you. I'm using a fun waffle weave cotton blanket AND a summer weight down blanket. Both blankets provide just enough warmth so that you can transition from season to season. By layering two lightweight blankets instead of one heavier weight blanket, you have versatility while sleeping. You can pull one or both up OR you can leave both off. It's nice having options! This bed making tutorial has you placing the blankets on the bed in correct locations too. It's my trade secret so that you know exactly how to make a bed professionally.
Make your bed like a pro!
If you want to expertly make your bed like all the hotels do it, you're in the right place! I explain how to fashion hospital corners and what the benefit is and detraction from taking the time to do them. Staying in a hotel with perfectly taut sheets is nice for one night but try tucking and un-tucking them 365 days a year! I leave the option up to you and your time management skills. When it comes to bed pillows, the luxury hotel chains use super soft, comfy down pillows. I have a link for a two-pack here. I LOVE my down pillows because they're so easy to cozy up and conform to any way you want to sleep on them. They're a luxury worth having! Once you have all the perfect essentials, it's time to move on to the fun part:
Dressing the bed:
This is where you learn how to make a bed look luxurious. I'm using a handmade duvet cover that you can also learn how to make. I love using custom bedding because I can control the fit to meet the needs of my specific bed situation. The duvet cover that I'm using today allows for me to keep the bed pillows neatly tucked in underneath the duvet all the time. If you watch the video, I point out the great benefit to DIY-ing this part of the project. Then comes throw pillows… I love throw pillows! Using throw pillows makes any bedroom a sanctuary. I show you how to stack them and how to choose them properly. The stuffing in a throw pillow is essential to to achieving a sumptuous look too.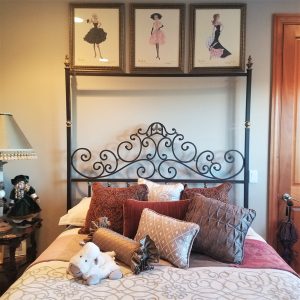 You will know exactly how to Make your bed!
Once you know how to make the perfect bed, you and your guests will sleep better than anyone in a luxury hotel room. Make your bedroom a sanctuary for anyone staying overnight by following my video tutorial. Oh, and make sure that you wash your sheets once a week and your blankets once a season. This ensures that you slip into a nice, clean environment every night of your life. There's no better gift to you or your loved ones! Everyone appreciates a little extra attention – even your bed! Now you know how to make a bed like a hotel so you've learned another LIFE 101 skill – congrats!