Repurposing a Kitchen Pantry into a Butler's Pantry
I'm repurposing a kitchen pantry into a butler's pantry today. What's the reason? While it's nice to have a pantry closet for food storage, a butler's pantry room is for functionality. Since I just built a large kitchen pantry cabinet in my kitchen area for food storage (see the video here), a food pantry cabinet is no longer priority for this space. I need storage space, staging space an clean-up space in this area adjacent to my kitchen and dining room areas. This pantry build is full of kitchen pantry ideas that will make your next party a breeze!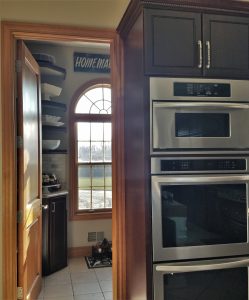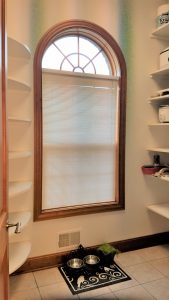 My kitchen pantry makeover will improve the builder-grade pantry shelving, beautify the walls and add some built-in cabinetry. Don't worry – I'll take you through the entire process, break it down into manageable pieces and give you a bunch of pantry layout ideas throughout. This entire project isn't difficult. You just need the right tools and materials to get it done. See here: (Repurposing a Kitchen Pantry into a Butler's Pantry Materials List) So, no matter what your walk in pantry dimensions are (you can even repurpose a closet), I give you several pantry design ideas that can improve the functionality of your kitchen too.
Learn to build a kitchen pantry cabinet!
Building kitchen pantry cabinets is easier than you think – seriously. You don't need to be a master woodworker to build a professional looking pantry cupboard. Your built in pantry cabinet can be any style you like, depending upon the finishes and trims you choose. That's the beauty of DIY-ing this butler's pantry. I show you how to use the materials that YOU choose to make the storage space you really want to see. Most anyone can follow along, step-by-step and get the same professional results I did!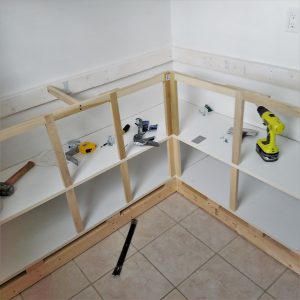 I take the mystery out of how it all goes together. I show you how to locate studs in the wall for a sturdy installation. You'll get great information on how to fasten things together so that your built in pantry cabinet can hold serious weight. As a matter of fact, I also show you how to straighten out sagging shelves due to lack of support. It's always nice to fix problems that you inherit when you purchase a home and my fix is quick and easy. Pantry shelving ideas aren't just for looking pretty – you need them to hold up for years to come.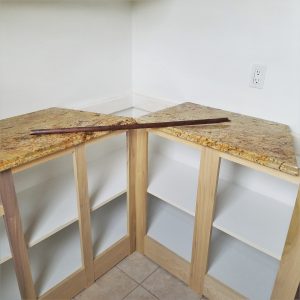 My pantry cabinet ideas
Typically, a butler cabinet matches or compliments the cabinets in its adjacent kitchen. Some are even as fancy as a formal dining room . But, since I have some doors left over from my kitchen remodel (which was more of a reorganization than a complete overhaul), I'm lucky enough to have cabinet doors on hand for my kitchen butlers pantry. If you don't have the same advantage that I do, you can purchase ready-made cabinet doors at your local big box store. You can even build your own if you have a panel clamp to cut your own plywood (I'll show you how to use it). Be creative because that's what this project is all about for me.
There are so many possibilities for your pantry closet design and I'll steer you in the right direction to do a great job. Think about  how you want to use your own space. Do you entertain frequently? Do you need a space for staging dessert? Would you like to hide dirty dishes during the course of a party? Do you have space for built-in appliances (sadly, I don't…)? What things do you want to see or hide? These are all considerations before you start. My butlers pantry ideas show you how I'm using my newly repurposed space and you'll be on track to answer all those questions easily, for yourself.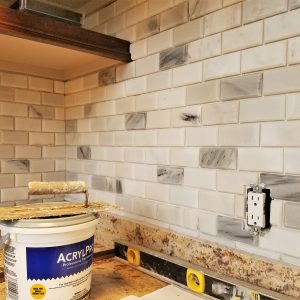 Kitchen pantries are so 2020!
The pandemic is changing the way we live in our homes. Pantry closet ideas are more important than ever because many of us want to stock up on food and kitchen supplies. We're cooking at home more and we're using our kitchen spaces for more than just meals. That means space is at a premium. So, a Butler's Pantry is a perfect addition to make that space more functional, while hiding much of the clutter. Butler Pantry images show picture perfect rooms, chock full of supplies, looking beautiful at the same time. You can have this too because a little planning is all it takes. Your butlers pantry cabinets will be uniquely you.
a small service and storage room between a kitchen and a dining room.
My pantry cabinet
Tour my pantry cabinet (before and after) and see how I reorganize my space for efficiency. I give and show you some suggestions that will save you time and money. From tool to wood trim choices, I show you all the items that I use to make this project look professional. My pantry storage cabinet is completely custom, from the doors to the stain. I give you my fool-proof tip for matching all the wood finishes as well. I prop you up for success because I have all the answers (by learning the hard way sometimes) and allow you to save valuable time and expense. Speaking of money, this is a relatively inexpensive project too.
Repurposing a kitchen pantry into a butler's pantry adds value
A kitchen pantry storage cabinet is useful but a custom built butler's pantry is more valuable. It's more valuable for resale and it's also more valuable for the homeowner's use. This renovation will save you valuable time and effort while working in the kitchen. It can eliminate clutter and make your space more beautiful. You can enjoy upgraded finishes too. So, keep the door open to your newly 'refreshed' room because it's going to be gorgeous and you're going to want to want everyone to see it. Unless I'm stacking dirty dishes in mine, I'll never keep the door closed again.