Best Valentine's Day Chocolate Cake Recipe!
You can make your sweetheart the best Valentine's Day chocolate CAKE ever! I show you how to make this over-the-top chocolate cake for all the sweethearts in your life. If you're looking for Valentines Day cake ideas, I have one amazing recipe that makes every heart melt. Homemade Valentines desserts are a great way to win over your partner's heart – by way of their stomach. This homemade chocolate cake recipe is a MUST in your recipe box because it's also recipe you can use for any occasion – even birthday cake!
I have a few tricks up my sleeve to make this the best chocolate cake you've ever had.  Most cake recipes call for relatively bland and boring components. I'm kicking this up a notch with the addition of a few rich and decadent ingredients to incorporate into the chocolate layer cake AND filling. I'm using fresh ingredients (as always) and the best cherries or berries I can find. I'll take you through the entire process, step-by-step as I  show how to whip, blend and decorate my best chocolate cake recipe. I make the process simple and easy to follow so that you get the same results that I do. I'll even share my "secret ingredient" that makes this the moistest cake you'll ever try.
Short on time?
I know that your time is valuable and Valentines Day cake ideas can get really time consuming. But, you can make and assemble THIS cake over the course of a few days if you'd like. You can prep the cherries one day, bake the cake another day, and make the frosting a week later. When it's time to assemble the cake, you won't be pressed for time because most everything is already done. The ingredients stay fresh in the refrigerator while you carve out time. You'll be able to pull off a breathtaking presentation that will look like you slaved for an entire week. Your sweetheart will appreciate all the love that you put into baking and decorating this gorgeous cake. I promise!
So, if you're short on time, you can use a chocolate cake box mix as long as you make sure that it's not 'super moist' or 'pudding in the mix'. The reason why is because these types of cake mixes make the cake too wet for this recipe. I know, it sounds counter intuitive! But, if the cake itself is overly moist, it will fall apart during assembly. We want a moist cake, not a wet one. We don't want any mishaps here! And… My secret to moistening this Valentines Day cake is the addition of cherry juice and fortified port wine. It doesn't get any better than that!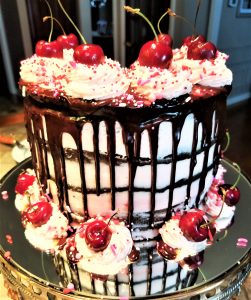 Looking for Valentine's Day desserts?
Forget the Valentines Day cake pops and other Valentines day desserts. If you're looking for easy Valentines treats that you can make at home, this is your winner. Each step is simple to master  and this Valentines Day cake recipe is AMAZING and MEMORABLE! My chocolate cake recipe from scratch is what you need to make a lasting impression on your sweetheart. They'll be dreaming about it for years to come. You score huge "brownie points" for this chocolate cake recipe! Let's show them the love this year by baking, drizzling and decorating a home made creation that's a treat for the taste buds.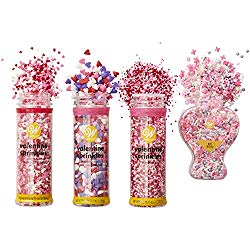 Your pantry probably has most of the general ingredients necessary for this Valentines Day cake. A few additional specialty items are all you need to purchase. From cake flour to powdered sugar, I'll let you know how to whip it all together to get this gorgeous dessert made easily. The most fun (for me) is choosing the Valentines Day cake decorations – in the form of sprinkles. You also have the ability to make the frosting any color you like so change it up to match your mood. That's what is so wonderful about making Valentine desserts from scratch – the ability to choose the overall design and outcome.
I make it easy to follow…
Valentines day dessert recipes may seem daunting but I break it all down for you into easy to follow segments. So, while you're prepping one portion, I have you addressing another aspect of the recipe. You get out of the kitchen as fast as possible by doing it this way. I show you how to load a pastry bag for easy and efficient decorating too. It's also fun to get kids involved. Decorating Valentines cakes with simple designs is easy for most anyone to do. It's great bonding time to create something WITH love on a day that CELEBRATES love. It's a win/win for life skills!
Chocolate + Cherries + Berries =
This is such a perfect blend of flavors. Add another secret ingredient to the list (a little Mascarpone cheese) and you have down-right HEAVEN! This soft, sweet, and velvety cheese makes the filling of this dessert decadent and delicious. We're adding cherries and cheese to the buttercream frosting but you may also use berries instead, if you'd like. The choice is yours. I also show you how to assemble the cake while making an easy checkerboard pattern on the inside of the cake. It's going to be a spectacular presentation when you cut into the cake and serve a slice on a plate.
Here's my best chocolate cake recipe…
If you're looking for a new twist on the same old chocolate cake, look no further than my best Valentine's Day chocolate cake! If you don't absolutely love cherries, try this cake decorating project with raspberries or strawberries. The results will be just as wonderful! Please click here to view and print the  CAKE  recipe. The BUTTERCREAM recipe is simple to follow too. Valentines Day cakes are so fun to make. I know you and your loved ones will enjoy this luscious recipe and have lovely memories to associate with it. Enjoy the process and may each and every one of you have a glorious Valentine's Day!