My Basement Bar Ideas: Basement Bar Cabinets
Are you looking for Basement Bar Ideas: Basement Bar Cabinets? Then this video is for you! I'm partnering with Lamps Plus and Crown Granite for an incredible bar make-over. I'm installing gorgeous new cabinets and lighting to make my space more user-friendly. Even though my basement area may look pretty, it's not functional. I have several issues to remedy with this project and you'll learn how to apply the same principles to your dysfunctional bar space too.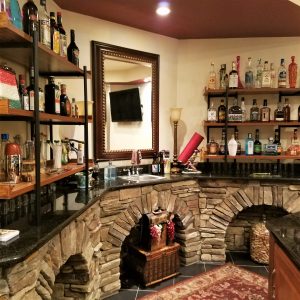 Get rid of the poor lighting!
Basement spaces are known for their poor lighting. Mine is no exception! I have new basement lighting fixtures from Lamps Plus that solve all my issues. I'm installing energy efficient LED bulbs that allow me to keep the party going longer – without the high electric bills. I have basement lighting ideas that provide a COMBINATION of different ways to light the space. This allows me to focus light and generally light the entire space at the same time. The more ways your basement lighting design overlaps the arc of the light fixtures, the brighter your basement feels.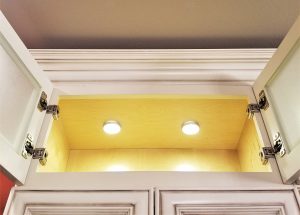 Basement lighting options are plentiful but I'm showing you how choose wisely. Your best bets for basement lighting rely on hanging fixtures, ceiling fixtures and focused light fixtures. So, I install a combination of all three to make the best basement bar designs possible. You can view and purchase my selections for in-cabinet lighting, LED tape lighting, track lighting and hanging ceiling pendants by clicking on the links or going to my SHOP page on my website.
It's not just about lighting…
The title of this video is Basement Bar Cabinets so storage is an equal focus of this project. When you look for bar cabinets for home, make sure you shop quality. Crown Granite in Metro Detroit offers consistent quality with their ready-to-assemble (RTA) cabinetry. They carry the best RTA cabinets in the area and are worth the drive to Farmington Hills, Michigan to see their fully stocked showroom of gorgeous bar cabinets. Seriously, they're not just for a basement bar build – they're for any room in the house that could use a face lift.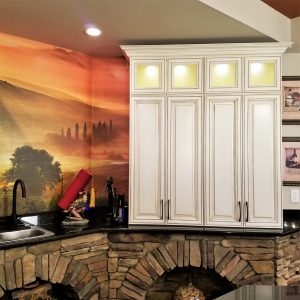 If you need basement bar ideas on a budget (don't we all?) and you also need to know where great bar cabinets for sale are located, Metro Detroit is where to go! No need to go to shop outside the USA (RTA bar cabinets IKEA) to buy bar cabinets that are inferior. Mine are all-wood construction – meant for a lifetime of heavy use. The best part? I'm showing you exactly how easy building a bar in your basement can be with RTA cabinets. Installing wall cabinetry has never been easier!
Who needs custom bar cabinets?
A DIY-er can do it all. You can see from my Liquor Bottle Storage video that shelving, bar and wine cabinets make for great home organization tips. Who needs liquor bottles hidden behind bar cabinets with glass doors when floating shelves make it easier to grab liquor bottles? You can customize your space just like a pro! All you need are some simple tools – many of which you probably already have! Who needs to hire an architect for basement bar plans when you can dream up a great plan with the help of Crown Granite?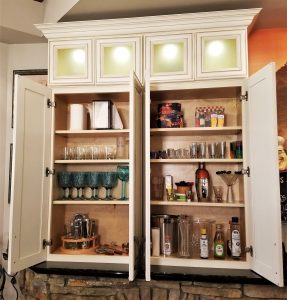 Home bar DIY ideas are just a click away. I offer you simple, easy to follow instruction on how to implement electrical, plumbing and building ideas that allow you to have the best home bar design possible. You learn how to streamline the look of your home bar room and make it neat, clean and bright. This video is also packed with storage solutions that are so important for tending bar. I make sure that you have everything you need at your fingertips for great hosting. By stacking RTA cabinetry directly on your counter top, you maximize the most storage for the space you're given.
I'm thinking differently.
You can too! It doesn't take much effort to build your own cabinets and you save THOUSANDS doing it! Whether you're remodeling a basement kitchenette or just need basement wet bar cabinets, you can think differently about what you need to purchase to get the job done. You also need to think differently about the quality of the products you're buying too. Now that my research is done, I'm sharing all my budget-friendly advice with you.
Not only am I installing new lighting and cabinets, I'm also installing COLOR! Neutrals are great for large areas but color can really make small areas appear larger when it's applied properly. My color goes on the highest portion of the ceiling and Behr's "True Copper" makes the ceiling appear at least a foot taller. It's also important to choose the correct finish. Mine is flat enamel – which has just a tiny bit of reflective quality. The newly painted ceiling makes the new light fixtures look even more luminescent.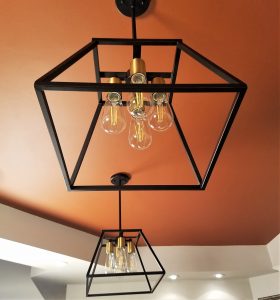 You can do this too!
My Basement Bar Ideas: Basement Bar Cabinets video gives you all the details you need to transform your space. You learn how to install my ideas from wall cabinets, to crown molding, to faucets, to murals, to light fixtures. Everything you need to know for home bar design ideas is here, waiting for you. Let me show you how easy it is to get a designer look without the designer price! And… your home bar decoration skills will customize the space and make it uniquely yours. Let's begin!